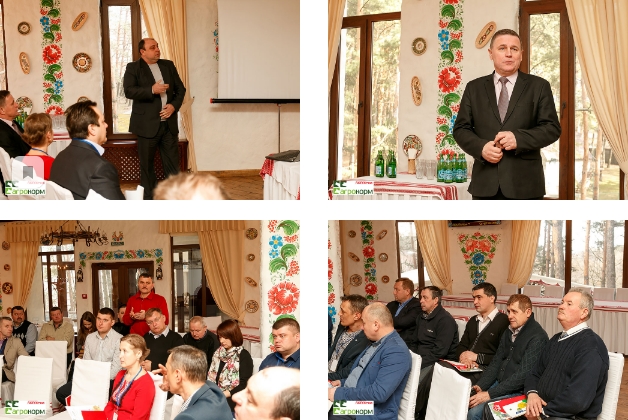 Seminar "Spring sowing campaign 2016"
March 16, LLC "Agrotechnika" held a seminar on the theme "Spring sowing 2016" in the recreation complex "Saduba na jerelah". The seminar was attended by the largest producers of Volyn, Rivne and Lviv regions, as well as guests from Belarus, representatives of the manufacturer of modern means of plant protection company Frandesa.
During the seminar were presented the directions of activity of LLC "Agrotechnika", defined ways of cooperation, one of the largest manufacturers of feed, concentrates and processed products of oilseeds, on the territory of Western Ukraine with raw materials producers. Special attention was paid to forward purchases. LLC "Agrotechnika" is ready to finance agricultural producers during spring sowing campaign in 2016 fertilizers, pesticides and diesel fuel, to provide the opportunity for the storage of crops. The company "Agrotechnika" is the exclusive representative of TM Frandesa in Volyn, Rivne and Lviv regions. TM Frandesa is a leading manufacturer of plant protection products in the Republic of Belarus. The representative in the Republic of Belarus and Ukraine shared the results and achievements when using plant protection products. The purpose of the event is the close collaboration with the agricultural producers of the region. Special attention is paid to forward purchases. The great interest of farmers was aroused by the presentation of the system of protection of plant-based drugs TM Frandesa on the fields of Ukraine.
Process engineer-consultant of the department of sales of finished products, namely animal feed and concentrates, has introduced new brands of animal feed and concentrates, produced in Turiysk the feed mill. Thanks Volyn Department of agriculture and food in the face of the Chairman of the Board Gorbenko Yury Mefodevich, for their help in fruitful contacts with farmers of Volyn.