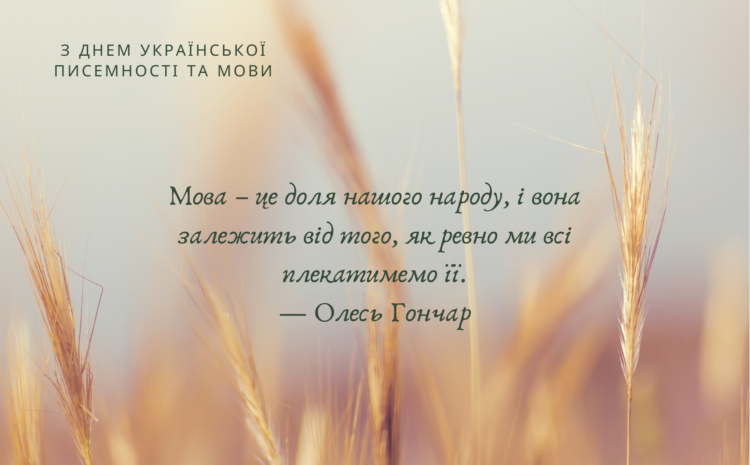 Happy Day of Ukrainian writing and language
🔵Thanks to language and thinking, society is able to change the world around it. It is not for nothing that the Ukrainian language is called nightingale, because it is rich in epithets and its sound is incredible. Undoubtedly, the language for the people is its treasury, a living hiding place of the human spirit. Mother tongue forms an invisible link between all generations of the past and future. Even when they tried to supplant the Ukrainian language, the people always preserved and defended the right to speak their language. Ukrainian poets, artists, politicians have always tried to preserve and popularize their native language.
🟡From year to year, our language gathers more and more true supporters. Since 1997, the Day of Ukrainian Writing and Language has been celebrated annually in Ukraine.
Interesting facts about the nightingale 👇
🔵 The Ukrainian language is officially recognized as one of the most beautiful: it ranks second in the world in terms of melody (after Italian) and third in terms of the beauty of vocabulary (after French and Persian).
🟡 The Ukrainian language has about 256,000 words, but it is developing rapidly, so in fact this number is now larger.
🔵 The most used letter in the Ukrainian language is the letter "p", the largest number of words begin with it, the least used is the letter "f".
🟡 The Ukrainian language is the richest in diminutive forms, for example, even the word "enemies" – "fortune tellers" has it.
🔵 The longest word in the Ukrainian language consists of 30 letters! Try saying: "dichlorodiphenyltrichloromethylmethane" (this is a pest control chemical).
🟡 "Testament" by T. G. Shevchenko is a record holder among translated works, it was translated into 147 languages.
🔵 The Ukrainian language is one of the thirty most common languages in the world, the number of people who speak Ukrainian is about 45 million.